JMC Products - Review and photos
15:37:00

Hello guys, today i am going to talk about an Online Store 'JMC'. JMC provides variety of quality & imported products to their customers. They have everything from jewelry to watches,hand bags, shoes, beauty products, nail tools, hair accessories etc. All of the products are so affordable and cheaply priced that you would want to buy everythin
g.
One thing great i came to know about this online shop is that the owners are on a mission to help animal shelters. This kind of thinking makes my heart flutter with happiness. You can read about their agendas HERE and help out if you can or want to (Just so you know , i wasn't asked to say all this, i read their bio and got to know about it, so i thought i should share, this is not at all any kind of promotion) =)
Delivery:
My package was delivered to me in one day at my doorstep. It is because the store is in the same city as mine, so it might take time to be delivered to your city as the delivery time depends on the city you live in.
The products i got in my package are:
Dragon Ear Cuff
This dragon ear cuff is made up of good metal. I really like this ear cuff but i am going to use it as a prop in my photos rather than an ear cuff. One problem i had with this ear cuff is that it doesn't require any piercing which is why it doesn't stay put. I would have liked if i could actually wear it and not drop it everywhere whenever i wore it.But i am happy that i can use it as a prop and it is not at all expensive. It is valued at just RS 295/ on the store, you can buy one HERE. =)
BOW ANKLET AND TOE RING
I love this cute pair of anklet and toe ring. I have never worn a toe ring in my life but i really like this one. It is a cute little ring with a bow on top. The anklet is also girly and adorable. One thing good about this pair is that you can also wear it as a bracelet and mid finger ring =) This cute pair is valued at RS 600 and you can buy it HERE.
This adorable hair tie set is the cutest thing ever. These ties can also be worn as hand bands. I love cute girly stuff so these hair ties are definitely one of my favourite items .These hair ties are valued at RS 350/ and you can buy these in different colors as well.
Opal Flower Ring
This beautiful Opal flower ring is one of my favorite products from this shop. When i first saw this ring , i wasn't sure that it will look good but trust me it looked so beautiful on my hand that i have been wearing it ever since i got it. It is of the perfect size and absolutely adorable. This ring is valued at JUST RS 250/ and you can buy it HERE.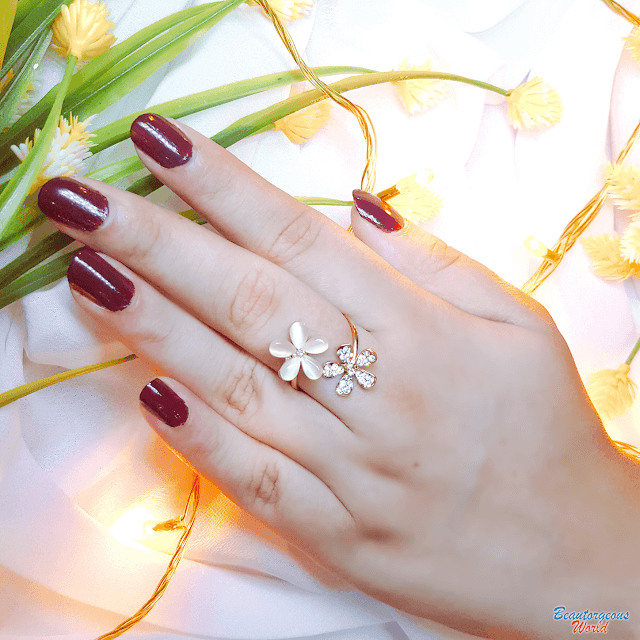 LED Fairy Lights
Last but not the least, these fairy lights are absolute LOVE of mine. I wanted these fairylights since so long but they are highly priced on every online shop in Pakistan except for this one. The picture below was taken in very low light inside my room so it definitely doesn't do any justice to these lights.
These lights look absolutely beautiful when lighted up. You will see these fairy lights in my future products photography as well because i am in love with these. You can arrange these lights on your bed top or around your dressing to make them look more glamorous. I would recommend every girl to buy these fairy lights and enjoy =) These are plug in fairy lights, you can also buy the ones with batteries (prices differ). These fairylights are valued at JUST RS 350/ and you can buy them HERE.
To wrap up i would like to say that i had a great time working with this store owner. This store has variety of affordable good quality products. I would definitely recommend buying from them. For more information about the products please visit JMC website. This is all for today,i hope you liked my post. Please leave your comments and suggestions below in the comment box.