Naturals Products Review
15:16:00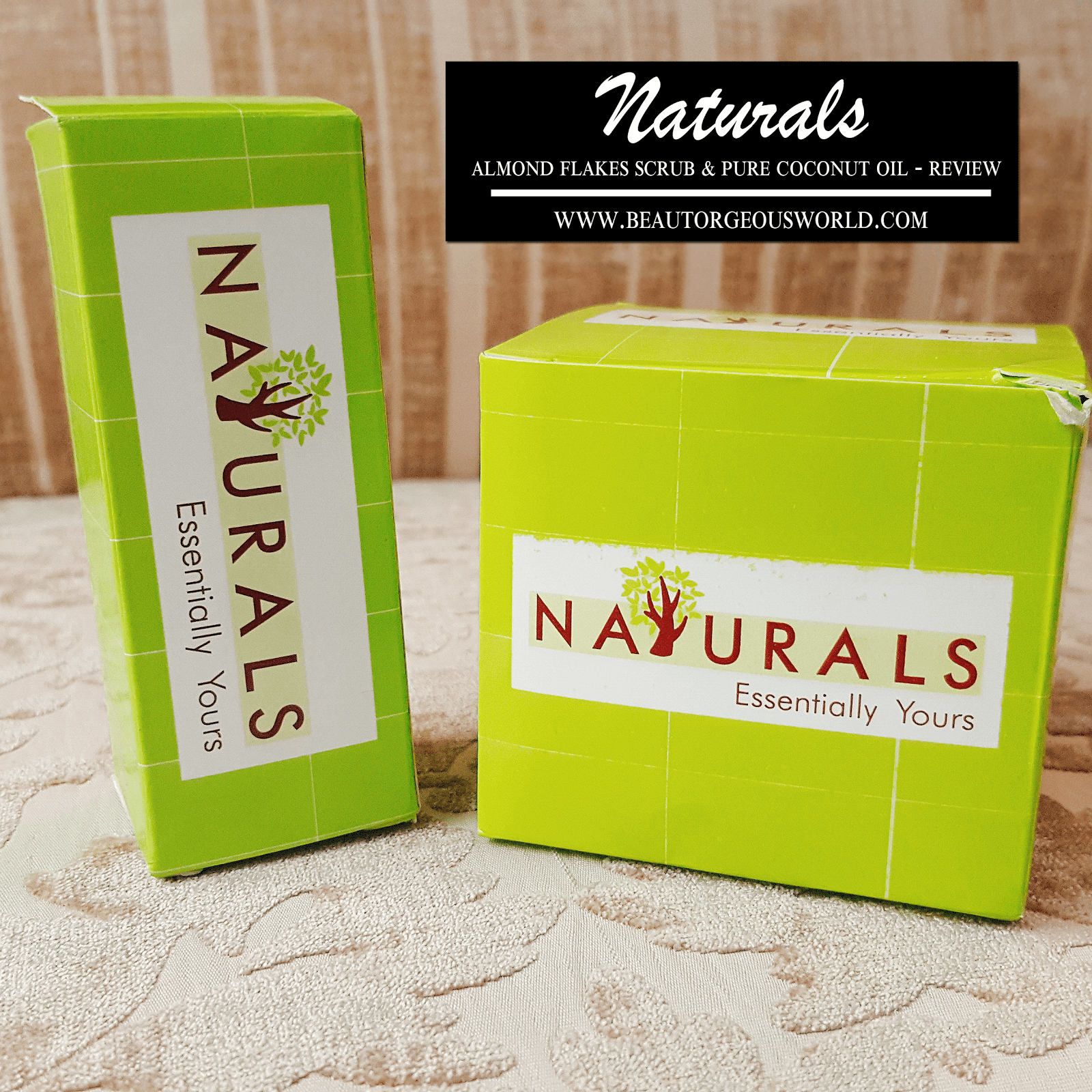 Hello lovelies, today i am reviewing two products from a Pakistani local brand named ' Naturals - Essentially Yours '. Naturals' team was kind enough to send me two of their best selling products which are:
1. Almond Flakes Scrub
2. Pure Coconut Oil
Almond Flakes Scrub
Packaging:
Almond Flakes Scrub comes in a plastic container with a wide mouth so that you can easily scoop out the product. The plastic container is also re-usable which is a plus point for me as after the scrub finishes i can use it to store my home-made scrub ;)
The product itself as the name suggests are almond flakes which you are supposed to mix with milk and scrub your face with it. I absolutely love this product as a scrub but i also use this scrub in another way which i will reveal after sharing my opinion about the coconut oil. You can get this scrub for 500 PKR.
Pure Coconut Oil
This pure coconut oil comes in a small plastic bottle. These days i am loving all pure and organic oils so i was excited to try this when i got it. When i first saw this oil i thought this might be a little heavy on my skin but to my surprise it is not at all heavy, it sinks right into the skin leaving my skin moisturized. I have been using this oil on my face at night plus on my lips as my lips dry a lot during Ramadan. So for lips, what i do is: after iftaar , i put this oil on my lips and let it sit there for an hour. This oil has become a part of my daily routine and i love it. You can get this pure coconut oil for just 200 PKR.
So now that i have shared my opinion of the two products, i will share another way in which i use these two products. As you all might already know that i have very dry skin, so i enjoy using products which can actually make my dry patches go away. What i do with these two products to make a perfect mask is: i take 2 tbsp of almond flakes, half tbsp of coconut oil and 1 tbsp milk and mix it all together. I let it sit in the bowl for a minute so that the almonds can soften up by soaking the milk. Then i apply this mask on my face and let it sit on my face for half an hour and trust me this combination does wonders to my skin. My dry patches actually disappear after using this mask, making the application of any foundation or BB cream very smooth.
Overall, i am loving both these products. I use coconut oil alone almost everyday and both products combined as a mask/scrub once or twice a week (sometimes more than twice, depending on my skin condition). I would 100 percent recommend both these products to you all.
This is all for today, please keep visiting for more =)