Purito's Snail Repair Advanced Serum
18:06:00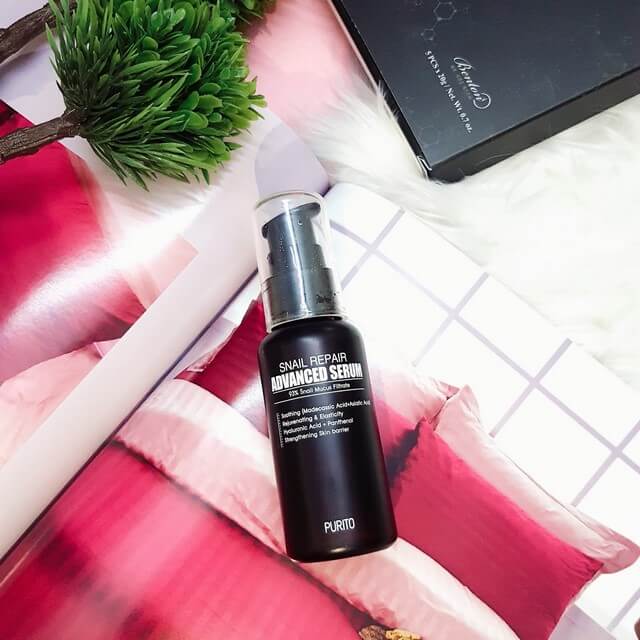 Hello everyone, I am back with another review. Today I am going to introduce you to a brand called 'Purito'. Purito is a Korean skincare brand. The word 'Purito' is a combined word of 'Purify' and 'To' (comes from a Chinese character which means Soil').'Purify' means to purify their natural ingredients to create safe and clean products. 'To' means to go back to basics to strengthen and repair collapsed skin barriers. Purito's products are formulated with natural and organic ingredients and are free of harmful ingredients. The product I am going to review today is

Purito's Snail Repair Advanced Serum

.
Brand Claims
1) Soothe Skin.
2) Hydrate and rejuvenate skin.
3) Strengthen the skin barrier.
4) Provide elasticity to skin.
5) Get rid of acne scars.
6) Help improve dark circles.
7) Reduce fine lines and wrinkles.
Packaging
This Snail Repair Advanced Serum comes in an outer cardboard packaging. The brand uses environmentally-friendly recycled paper packaging for all of its products. The product itself comes in a dark-tinted plastic bottle with a pump and a transparent plastic cap.
Ingredients list
Snail Secretion Filtrate,Glycerin,Water,Sodium PCA,Pentylene Glycol,Hydroxyethyl cellulose,Madecassoside,Centella Asiatica Leaf Extract,Asiaticoside,1,2-Hexanediol,Ethyl Hexanediol,Hydrolyzed Hyaluronic Acid,Centella Asiatica Extract, Panthenol, Ethylhexylglycerin,
Glycosyl Trehalose,
Disodium EDTA, Hydrogenated Starch Hydrolysate
Main Ingredients
Snail Mucus:

It has 93% of highly concentrated snail mucus. The components of snail mucus including allantoin and glycolic acid helps to regenerate the skin damaged by UV rays or external stimuli and relieve facial blemishes such as freckles and acne scars with its excellent regenerative ability. It also increases collagen and elastin to prevent and relieve wrinkles on the face and protect skin elasticity.
Hyaluronic Acid & Panthenol

provides deep moisturization and helps the skin to preserve moisture hence keeping the skin younger for a longer period of time.
Pennywort extrac

t helps to relieve skin troubles and scars.
Madecassic and Asiatic Acid

helps to soothe skin problems and blemishes for rapid and powerful skin improvement.
How to use the product
A fter cleansing and toning your face, y ou can take one or two pumps of the serum on your hand and apply it on your face with the help of your fingers. You can also skip the serum step in your skincare routine by mixing this serum with your moisturizer in a ratio of 1:1 and apply it on your face for a good dose of hydration.
Smell and Consistency
This serum has a mild scent which is very pleasant. The consistency of this serum isn't as thick as I expected it to be, it is pretty lightweight which is a good thing because it absorbs quickly into the skin without it making my skin look oily.
Final Thoughts
I have been using this serum every single night for a good amount of weeks now. I am genuinely in love with this serum. As my skin is really dry , this serum makes my skin super hydrated and moisturized. I love how this serum is not sticky at all hence I can use it at night without being irritated. It doesn't just hydrate my skin but it also soothes down my skin. Over time I have noticed it has lightened my acne scars as well which was very surprising. Many products claim to help with acne scars but a product actually helping with acne scars is very difficult to find so I was really surprised when this product worked on my acne scars as well. It has also made my complexion brighter as well.
Though I use this serum at night sometimes I also use it during day time and let me tell you, it works amazingly as a primer as well. It really makes my skin smooth and the foundation glides on seamlessly because of this serum. This serum also claims to help reduce the appearance of wrinkles and fine lines, for that, I will have to continue using it and will get back to you with an update when I see the results. Overall, I am super impressed with this serum and I will continue using it.
Price
$18.90
For more info about the product please visit
HERE.
This is all for today. I hope you find this review useful. Please visit my Instagram account

HERE

and for reviews like this, please keep visiting. Thankyou.