Benton Fermentation Mask Pack Review
18:04:00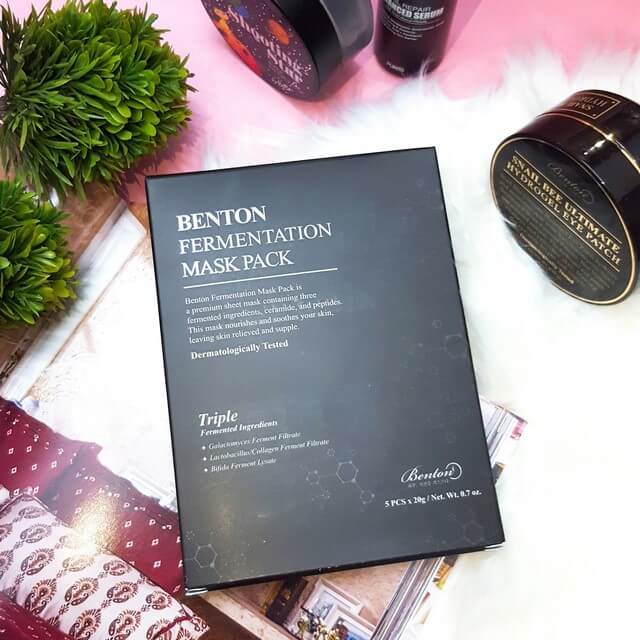 Hello everyone, today I am here to review a product from Benton. 'Benton' is a well-known skincare brand. 'Benton' is inspired by and named after the movie 'The Curious Case of Benjamin Button' in which Benjamin grows younger with time. Likewise, Benton wishes to turn back the time of your skin back to its original, youthful condition with healthy recipes rather than to give temporary effects with harmful ingredients.
Today I am going to review Benton Fermentation Mask Pack which was recently launched. Benton Fermentation Mask Pack claims to awaken dull skin. It is a premium boosting mask pack containing Galactomyces Ferment Filtrate, Bifida Ferment Lysate and Lactobacillus/Collagen Ferment Filtrate as main ingredients that gives power to the skin by elasticity and luminosity.
Product Claims
Fermented ingredients and 2 types of peptides in the mask help nourish skin and give elasticity. Naturally derived ingredients help to condition dull skin and give vitality and elasticity. The mask also h elps in wrinkle improvement.
Packaging
There are 5 sheet mask packs inside a cardboard box. All instructions and ingredients are printed on the cardboard box. The packaging is simple yet sleek.
Ingredients
Galactomyces Ferment Filtrate, Water, Lactobacillus/Collagen Ferment Filtrate, Glycerin, Propanediol, Pentylene Glycol, Butylene Glycol, Bifida Ferment Lysate, 1,2-Hexanediol, Sodium Hyaluronate, Ceramide NP, Aloe Barbadensis Leaf Extract, Althaea Rosea Root Extract, Acetyl Hexapeptide-8, Copper Tripeptide-1, Betaine, Panthenol, Usnea Barbata (Lichen) Extract, Zanthoxylum Piperitum Fruit Extract, Pulsatilla Koreana Extract, Hydroxyethylcellulose, Adenosine, Carbomer, Hydrogenated Lecithin, Arginine.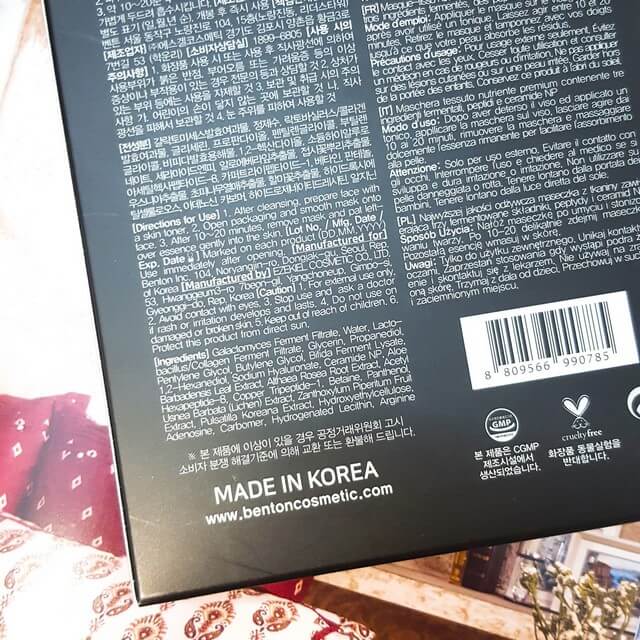 Main Ingredients
Galactomyces Ferment Filtrate - Galactomyces Ferment Filtrate is an ingredient often used in Korean Skincare products. Galactomyces is a nutrient-dense yeast. While the Galactomyces Ferment Filtrate is a filtrate of the fermentation of a food substrate by the galactomyces microorganisms. This ingredient helps to strengthen the skin barrier, decrease the number of enlarged pores and blackheads, reduces sebum and acne as well.
Bifida Ferment Lysate - It is a probiotic ingredient derived from a specific type of yeast obtained by the fermentation of Bifida bacteria. This ingredient helps reactive skin become less sensitive to environmental aggressors via strengthening its microbiome. Doing so encourages the skin to visibly repair itself and begin looking healthier.
Lactobcillus Ferment Filtrate

- It is a probiotic ingredient with soothing and anti-aging properties.
Scent and Texture
This mask has a very mild scent which is probably the natural scent of the ingredients and not any artificial fragrance. The mask itself is made up of environment-friendly cotton and cellulose. It is transparent and lightweight, hence you can actually see your actual skin underneath it. What I love the most about this mask is that it is soaked in a good amount of serum, making the mask retain moisture and continue providing all the goodness even after 30 mins.
Final Verdict
I have tried two mask packs from the box to form this opinion. This mask is very easy to fit on the skin.Though I had to customize it according to my face just like every other sheet mask, I love how it adheres to the skin perfectly. It doesn't slip away or anything therefore I can even work while wearing this mask. As I have sensitive eyes I like how this mask has a very mild scent which doesn't sting my eyes at all. I wear this mask for 25-30 mins. After removing the mask my skin feels hydrated and brightened. I have also noticed that this mask helps smoothen my skin, making my pores look visibly smaller. I will continue using this mask to notice its anti-aging effects as well. Overall I am super impressed with this mask and will continue using it.
For more information about the mask pack please visit HERE and HERE. This is all for today, I hope you find this review useful. Thankyou for visiting.
Product provided by Benton for review purposes.