L'Oreal Paris Color Riche Lipstick - Review And Swatch
22:00:00
Hello lovelies,
Today i am reviewing L'Oreal Paris lipstick from their COLOR RICHE collection, which is in shade Matte 144

'OUHLALA'

. If you guys are following me on instagram , u would probably know that Loreal Paris Pakistan sent me this beauty and this is not from my own pocket. However my review is unbiased and my opinion is not based on how i got it.
What L'Oreal Paris says about their Color Riche range:
Indulge in richness beyond compare with our most luxuriously rich color and intensely rich hydration. Color Riche lipcolor is richer, creamier and more moisturizing than ever before. Main addition to nourishing ingredients like Omega 3 and Vitamin E, the formula is enriched with Argan Oil to condition and soften lips.
My own opinion:

This lipstick is in shade 'Ouhlala'. Firstly the name of this shade is quite flirty, which i realky liked ;)). Secondly, the shade itself is bright pink,with purple undertone, as seen in above pic. The shade in the pic is the exact shade, i've only edited the background and not the lipstick itself.
I wore this lipstick for more than 6 hours and it din't budge. If you lick your lips, it will obviously lighten. The next day i wore it again, but this time i rubbed it off with a tissue paper,to check. To my surprise the color is so rich that it didn't wipe off completely, it left a pinkish tint on my lips, which i really liked.
This lipstick applies very smoothly on the lips and is highly pigmented. I didn't feel my lips to be drying while wearing the lipstick and not even afterwards.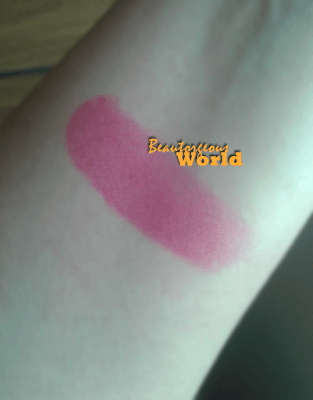 Loving the pretty shade ♡♡ Here's a swatch of this shade, the above shown picture is taken outside the house ,whereas this swatch was taken inside. For the swatch i didn't edit the pic at all, so you all can see that in the above pic,lipstick was not at all edited.
Pros:
♡ Staying power is great
♡ Highly pigmented
♡ Doesn't dry my lips
♡Love the packaging
PRICE might be a issue for some people.
Overall Rating:
4.5/5
This is all for today, thankyou so much for reading my review :)) If you like my posts, please follow my blog :).