Farbod Barsum - Introduction and Review
03:38:00
Hello guys, today i am here to introduce a new online store which is www.FarbodBarsum.com .
Founded in 2010, FARBOD BARSUM represents the Ultimate in Couture Exotic Skin Handbags and Accessories.
Website
Farbod Barsum has an interactive and user friendly website. This online store has four main categories which are "New Arrivals", "Handbags and Clutches", "Travel and Executive" and "Small Accessories". All the categories are easily accessible and to purchase any product you can easily add it to your cart and checkout.
While choosing any product from the store you can easily check all the details about it when you click any product. With the description of the products, company has also mentioned how to take care of the product so that you can get the most out of it.
Products
Farbod Barsum
products are of high quality and looks luxurious. The company hand selects the material and gives attention to each and every detail of their products. According to the company "t
he sources of our materials are sustainably harvested and dyed in chrome free tanneries making our approach to design both ethical and ecologically sound. Our skins are registered with the U.S. Fish and Wildlife Department and meet strict compliance with the international requirements of CITES.
"
Forbod Barsum do not depend on machines rather believes in hand made work. Every piece is hand made by master artisans and polished one piece at a time. You can know that the product is made with attention and detail when you see that all the products are given separate names like "Mona", "Isbabella" etc.
The skins used for their products are also durable and will last you a long time , if you will take care if it.
Their
alligator skin accessories
are unique and definitely worth a buy. Especially the above shown Taupe colored cuff is super chic and trendy. This cuff is available in plenty of other colors and skins as well. You can buy this cuff
HERE
for $ 1,198.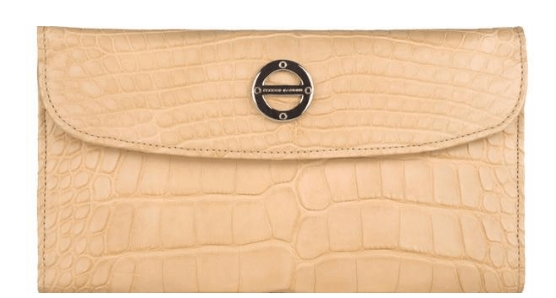 The above shown designer women's wallet in Nude is my favourite among all the other colors available. Somehow in this nude color the wallet is looking stylish and can be styled with any formal or informal outfit. You can get this wallet HERE for $ 1,580.
Shipping and Payment
For all the US customers , Farbod Barsum offers free shipping. Whereas, payments are accepted via credit card or debit card.
Returns and Exchanges
Farbod Barsum accepts returns and exchanges within 14 days of purchase.
This is all for today, for more information please visit their website HERE . Your comments and suggestions are highly appreciated =)