Dresslily August Haul - Review and Photos
05:13:00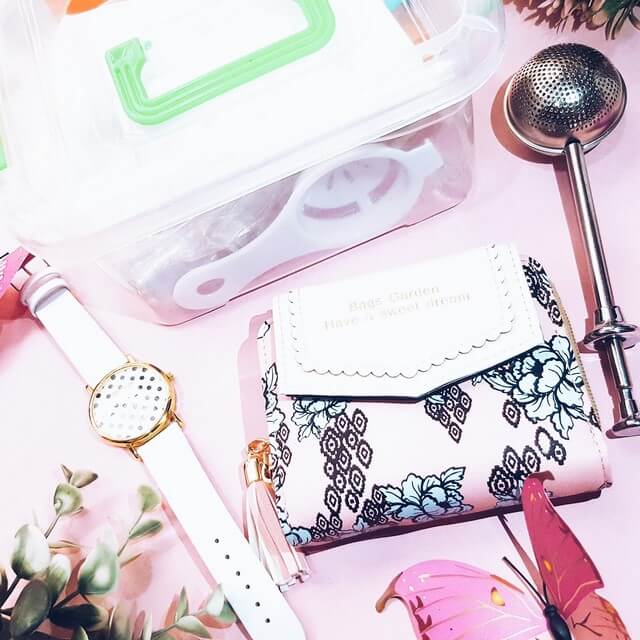 Hello guys, i hope you remember the Dresslily wishlist i shared with you all a few weeks back as today i am sharing my

Dresslily

haul with you all. Dresslily has a huge variety of products available, especially their beach shower curtains variety is vast and appealing. Now i am going to share my haul with you all. This Dresslily haul consists of two of the products from my wishlist so i am quite happy with my haul =D This time around i ordered four products from Dresslily which are following:
1. Tassel Floral Small Wallet
2. Geneva Luxury Quartz Watch
3. Stainless Steel Spring Tea Ball Strainer
4. DIY Cake Decorating Set
Tassel Floral Small Wallet
So the first product i am going to talk about is this Tassel Floral Small Wallet. This wallet was available in six colors and i ordered the pink one. It has a beautiful pink and blue print on it which gives it a unique look. This wallet though looks small, opens up and have plenty of space for money, change and cards. The tassel hanging with the wallet also gives it a very cute touch. I am absolutely enjoying this wallet, especially because it can hold all my cards. As this wallet folds into a tiny wallet, it doesn't take much space in my handbag which is definitely a big plus point. This wallet is priced at just 10.52$ on Dresslily.
Geneva Luxury Quartz Watch
The second product i have chosen to review is this Geneva Luxury Quartz Watch. When i saw this watch on the site, i found it very cute especially because of the polka dot print. The band of the watch is pure white but is a little stiff. I really like the center part of the watch but i didn't like the band at all. I am still going to wear this watch because i genuinely like the center part as it is cute, elegant and feminine. This watch is available at Dresslily for just $3.98.
Stainless Steel Spring Tea Ball Strainer
Being a green tea lover, i had to get this tea strainer. This tea strainer is made up of good quality stainless steel. This strainer opens up when pushed from the other end. It has a spring inside the long stainless steel tube which connects the end of this strainer with the front. I love all sorts of green tea including the tea bags one but i feel lighter when i brew the green tea myself on stove. I do have some green tea packs which my father brought from different countries so when i am lazy, i just warm the water in oven and use this strainer to diffuse my green tea. It works as a tea bag but better ;) You can get this strainer from Dresslily for just $4.09.
DIY Cake Decorating Set
I absolutely love baking so i love ordering baking tools. The second i saw this cake decorating set, i knew i had to get it. This cake decorating set came in a plastic lunch box type of box. This baking set has all the baking tools one would need to decorate a cake. This set contains three piping bags, 10 cupcake cases, two nozzle mouths, 1 tiny brush for cleaning the nozzles, 1 flower nail, 1 bag sealing clip, 30 nozzles , 1 egg separator and 1 flower shifting scissor. This set is perfect for not just the beginners but for professionals as well. Best thing about this cake decorating set is that it is valued at just $15.46 at Dresslily.
I have been using this cake decorating set a lot. Hopefully i will show you my work as well using these tools on my

Instagram

someday.
This is all for today, i hope you enjoyed this haul. For more posts like this, please keep visiting. THANKYOU.