Garnier Skinactive Hydra Bomb Tissue Masks - Review
05:41:00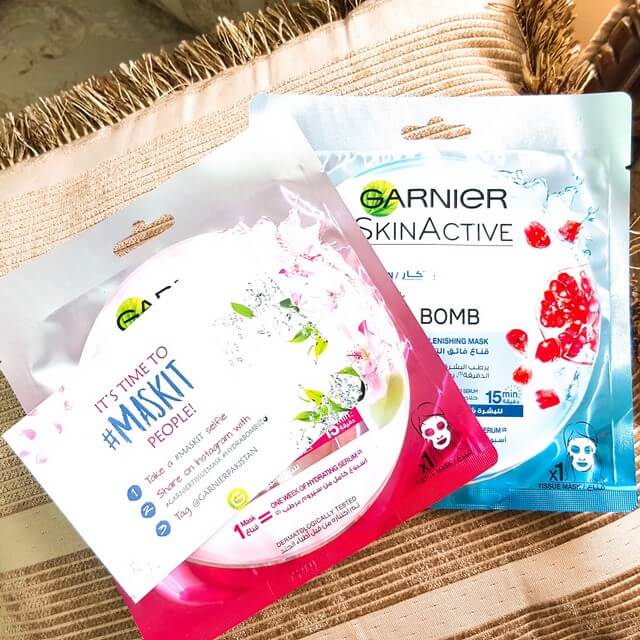 Hello guys, today i am here to share my review of

Garnier Skinactive Hydra Bomb Tissue Masks.

These days K-Beauty skin masks are a rage all over the world so Garnier recently launched their own version of sheet masks.
Packaging:
Packaging of these masks is pretty impressive, i really liked the bright colors they have used. These masks are very easy to use. All directions are mentioned at the back side of the package which is really helpful.
Product:
The Garnier Tissue Masks are of white color. They are very soft and are soaked in a good amount of serum. I was able to apply the masks easily on my face. The size of the mask is standard, so i don't think anyone would have a trouble wearing it. The serum on the masks was transparent neither too thick nor too thin.
Application:
Application of the mask is very easy, you are supposed to wear the mask on the face and then peel the blue protective film off. I applied both masks for 15-20 minutes. It stayed perfectly on my face and at no point i felt it coming off. After removing the mask , i massaged the serum into my skin.
Super Hydrating Glow - revealing Mask - Cherry Blossom Extract + Hyaluronic Acid
I tried Garnier's cherry blossom extract and hyaluronic acid mask, the same day i got it because it said it is a super hydrating mask. As i have dry skin, i was really excited about this mask. My experience with this mask was bitter sweet. After wearing the mask for 15-20 minutes i removed the mask. I was super happy at first because my skin felt refreshed and hydrated. It was actually glowing and i absolutely loved it.

BUT , YES A BIG BUT !!

I applied this mask at night and when i gently massaged the excess serum into my skin , i started to feel itchy in some places on my face. So, i washed my face and went to sleep. Next day i had two effin' zits on my face ! It is a possibility that those zits were gonna come out no matter i had applied the mask or not BECAUSE...
Super Hydrating Replenishing Mask + Hyaluronic acid + Hydrating Serum
After the zit incident, i wasn't too sure about trying the second mask but i still mustered up courage to use the other mask just to be sure. I loved the fruity smell of this mask. Again, after removing the mask i was happy to see my hydrated and glowing skin. This time i decided not to massage the serum into my skin. To my surprise i didn't break out this time. I was really satisfied with the result of this mask.
These masks are worth a try for sure ! Will i try them again? Actually i will definitely try them again because my skin is super dry and these masks surely hydrated my skin.
Availability:
Rating (On the basis of hydration) :
This is all for today, i hope you find this review informative and helpful. Please leave your comments and suggestions in the comment box below.