Dear Klairs Freshly Juiced Vitamin E Mask Review - Wishtrend
20:34:00
Hello guys, how are you all, i hope you are all well. Today i am here to review Dear Klairs's Freshly juiced Vitamin E mask kindly sent to me by

Wishtrend

. Though this product was sent to me, whatever i am going to say in this post is my own unbiased opinion.
Klairs is a well renowned skincare brand, their products are alcohol and parabens free. This Vitamin E mask is the first product i have ever used from Klairs so i was really excited to try the product when i received it.

What the brand says about the product


'The Klairs Freshly Juiced Vitamin E Mask can be used as a mask, sleeping pack or a daily moisturizer. Fortified with the antioxidant power of Vitamin E to brighten, improve wrinkles, and prevent signs of aging. While it protects the skin from UV damages during the day, it helps with wrinkle improvement and skin regeneration during the night time.'
Packaging


I really like the packaging of this product. The outer cardboard box has a holographic front cover. The product itself comes in a plastic jar with a silver cap. The jar also comes with a small spatula (I apologize , i forgot to take the photo of the spatula =p
) with which you can take out right amount of the product, which I find very hygienic.
Ingredients
Vitamin E:

Vitamin E is a powerful antioxidant which is effective at reducing UV damage in skin. It also helps to reduce the appearance of scars and moisturize skin to make it look soft and supple.
Niacinamide:

Niacinamide helps in boosting skin's immunity. It also helps in getting rid of hyper-pigmentation and helps in minimizing wrinkles and fine lines.
Adenosine:

Adenosine helps soothe and restore skin . It also helps in minimizing wrinkles and making the skin look smoother and younger.
The texture of this mask is pudding/jello like. To use the product I first mash the product on the back of my hand with a spatula or warm it in the palms of my hands then i apply it on my face. The product literally melts into the skin when rubbed into the skin leaving no greasiness behind. You can checkout the texture of this product on my

insta

post or in the gif below: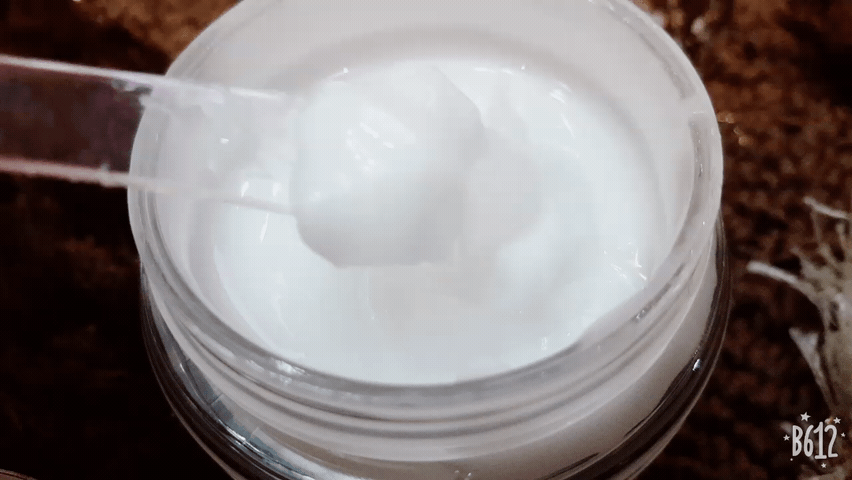 I have been using this product since two weeks now and i absolutely love it. I have seen a huge improvement in my skin since i have been using it. I have been using this product as a sleeping mask and my dry as sahara desert skin looks so moisturized and smooth when i wake up in the morning. I have also noticed that this product is helping me reduce my acne scars which i was really struggling to get rid of since the last breakout which i had 2 weeks back!
I have also been using this product during day time under my makeup as a moisturizer/primer as well because it gives instant smoothness and i have been loving how my foundation glides smoothly over this. Thankfully with this sleeping mask i haven't had any acne breakouts which is always a plus point for me as my skin is sometimes super sensitive. I am absolutely loving my skin for now, if i will notice anymore changes, i will surely update this post.
Price
27.00 USD
For placing order or for more information about the product please visit Wishtrend . This is all for today, i hope you enjoyed this post. For more reviews like this, please keep visiting my blog . Thankyou.