Dresslilly Wishlist 2019
22:59:00

Hello everyone, i hope you are doing well. Today i am here to share my 2019 wishlist from

Dresslily

. Dresslily is an international store which carries a variety of products including clothes, accessories, home decor items and much more.
I am going to share my wishlist from Dresslily down below: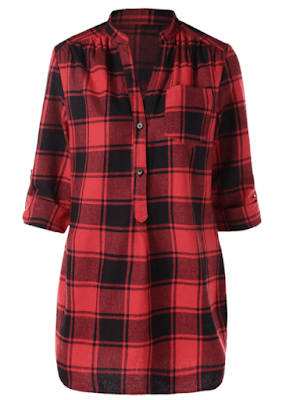 This roll tab sleeve tartan blouse is the first thing that caught my eyes. It is a checkered blouse and checkered blouse/shirts always attract me. This shirt can be worn causally with jeans. I really like th
e
buttons and the front pocket on the front side of the shirt which gives it a comfortable look. This shirt is only valued and 19.21 $ which is quite a fair price.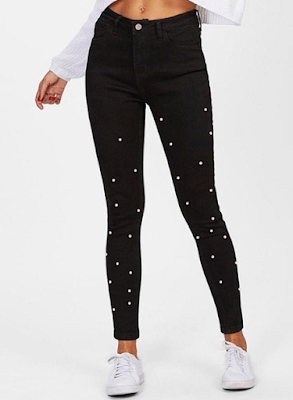 This beaded skinny jeans is the second thing which caught my attention. I really like the white beads in contrast with the black skinny jeans. These jeans can also be worn casually. Th
e
y would look good either paired with a crop top or the even with the shirt which I shared above. This skinny jeans is worth 25.40$ on Dresslily and i think it is worth the price.
Who doesn't love backpacks? I for one love backpacks and this Vintage Pu leather backpack seems like a perfect companion for me to travel with. This vintage leather backpack is so appealing to the eyes plus I love the zipper in the front of the backpack which makes it look even more appealing. This backpack is 22.27$ worth on the store.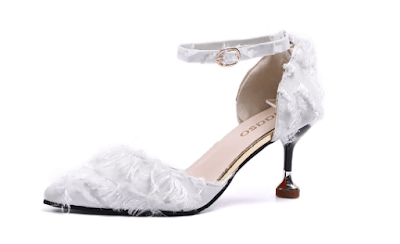 As soon as i opened the shoes category on the website , these high heels grabbed my attention. These high heels in white literally made my heart flutter plus they are pointed towards the front which is how i like my shoes anyways. These high heels can be worn formally and they would look good with every dress. They are valued at 38$ and by the look of it, i think they are worth the price.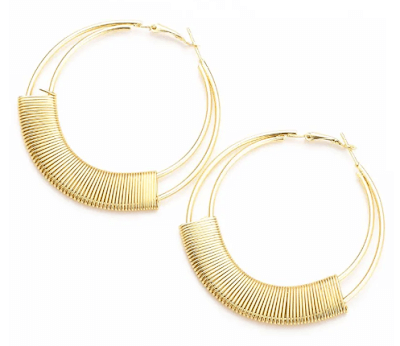 Last but not the least the above shown hoops in golden are r
e
ally elegant. I absolutely love the multi layered design. These hoops are made of alloy and can be worn casually and formally. These hoops are available for just 6.7$
This is my wishlist from dresslily, which products are you interested in buying from dresslily? Share your wishlists below. Also checkout some new arrivals on the store, they look amazing.
Here are the new arrivals: https://www.dresslily.com/promotion/spring-is-in-the-air.html?lkid=19951366
It's time to refresh your wardrobe! DressLily has prepare the best high-quality but low-prices products for you, make you free under all occasion for Monday to Friday.
Here are some amazing discount codes for you all to enjoy:
Use code: DLAnniversary with 12% discount:
Use code " DLAnniversary " for all order with over 25USD save 3USD
Use code"DLAnniversary" for all order with over 50USD save 6USD
Use code " DLAnniversary " for all order with over 100USD save 12USD
This is all for today, i hope you enjoyed this post, for more please keep visiting. Thankyou.