Stage Line Professional Products - Review
03:38:00
Hello lovelies, today i am here to review products from Stage Line Prefessional Pakistan. Few days back i was sent two products from the brand and

Transmedia PR

to review. Products came in a heart shaped box which i absolutely adored.
Stage Line Professional:
Stage Line Professional is a Spanish company specializing in marketing and production of cosmetics. According to them, ''creativity, quality, product safety and customer service are all hallmarks of our company".
Products:
They sent me two full sized products which are:
1. Stageline X - FIX LIPS
2. Stageline X Volume Mascara
Stageline X - FIX LIPS
These days liquid lipsticks are all women have on their minds so when i got this much raved about X-Fix lips liquid lipstick by Stageline i got very excited. The packaging of this liquid lipstick is quite sturdy. It looks like most of t

he liquid lipsticks we see in mar

ket these days, so in that aspect there is nothing new about it look wise. But I really like the fact that the tube is long and has a good amount of product inside it.
The shade which i got for review is 07 and it is a red shade with orange undertone. The formula of this liquid lipstick is much thinner than the ones i use but is super pigmented.I really like how it applies smoothly on the lips and doesn't dry up while i'm in the middle of applying it on my lips. This liquid lipstick dries matte and doesn't dry out my lips as many others actually do. The best thing about this liquid lipstick is that it is lightweight and doesn't feel uncomfortable on my lips.
This liquid lipstick stays put for 6-8 hours and is needed to be removed at the end of the day. I really like the shade i got for the review because it is not too bold and is so 'in' these days.
PRICE: 995 PKR/
Here's a

swatch

of this pretty shade:
Stageline X Volume Mascara
The second product i got for review from Stage Line is this X Volume Mascara. Mascara is my all time favourite beauty product so new mascaras really make me happy. Okay now let's get to the review of this product. This mascara comes in a large tube so I was shocked seeing it as i have never seen such a large tube of mascara in my life. I like the silver packaging of this mascara but was very disappointed with all the scratches it was covered in when i got it. I don't know whether the scratches are actually a part of the design or it got ruined during the shipping. Anyways it is not that big of a deal as i am not going to use it for decoration =p
This mascara has a huge applicator as well but not as huge that it would be difficult to apply. I was able to apply mascara on both my upper and lower lashes with ease. I really like the formula of this mascara as it doesn't make my lashes weigh down rather lifts them up and also curls them. I have very thin droopy lashes still i don't like mascaras which make my eyelashes clumpy. This mascara is not clumpy at all. It gives a perfect amount of volume to my lashes and also separates them which i really like about it.
PRICE: 995 PKR/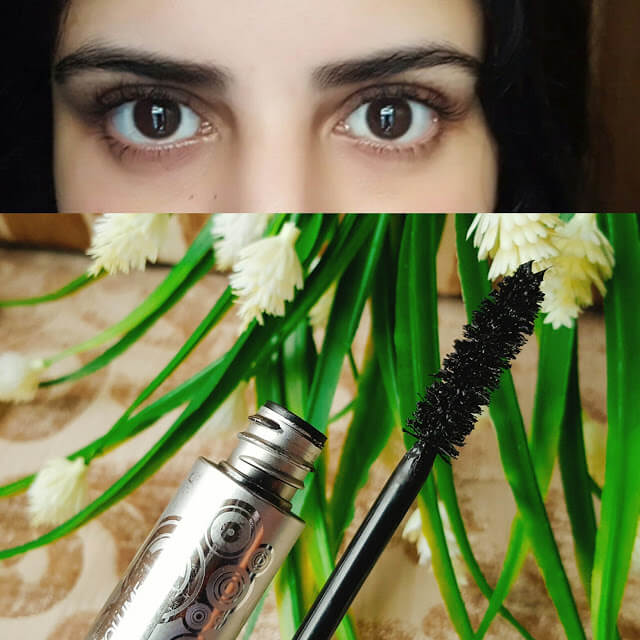 Overall i really like both these products and i think they are worth a buy especially because of the formula of both these products. For more information please visit their social media accounts:

Facebook

||

Instagram

. I really hope you liked the review, leave your comments below and keep visiting for more.